Corporate Profile [ Company Outline / Corporate Philosophy ]

Name
Metal One Steel Products Corporation
Headquarters

Tokyo:

JP Tower, 7-2 Marunouchi 2-chome, Chiyoda-ku, Tokyo 100-7032
Tel: 03-6777-6400 Fax: 03-6777-6301

Osaka:

Nakanoshima Central Tower. 10F, 2-2-7 Nakanoshima, Kita-ku, Osaka-shi, Osaka 530-0005
Tel: 06-7711-6203 Fax: 06-7711-1915

Established
December 1969
Capitalization
JPY 480 million (wholly owned by Metal One Corporation)
Fiscal year ends
March
Business lines
Domestic sales, imports, and exports of steel products
No. of employees
161
Sales volume
Approx. JPY 67.3 billion
Directors

President, Director

Mitsuhiro Eto
(Sales Group Division COO.)

Director,
Executive Officer

Kazutaka Ishikawa
(Administration Group Division COO, Corporate Administration Div.)

Director

Atsushi Ichikawa

Corporate auditor

Masanori Sugiyama

Executive Officer

Takeyuki Sakamoto
(Division COO,Wire & Wire Products Business Div.)

Executive Officer

Kiyotaka Kawamura
(Division COO,High carbon & Specialty Steel Wire Business Div,
CH Wire & Fastener Business Div.)

Main banks
Mizuho Bank, Ltd.
The Bank of Mitsubishi UFJ, Ltd.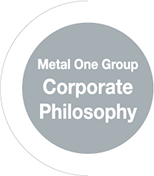 Global Citizen

We will broadly contribute to society in an effort to live and work with the people of the world.

Honesty and Virtue

Honesty and fairness in every respect will be our continuing source of pride.

Aspirations and Creativity

We will lead the way to a bright and prosperous future in our pursuit of the ideal market and distribution.